Jack Burton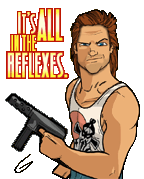 Join Date: March 31, 2001
Location: The zephyr lands beneath the brine.
Age: 34
Posts: 5,459
As cleric, you don't really need henchmen for anything other than disarming traps. Locks are no problem whatsoever once you get (improved) power attack, as you can then simply bash them. The choice is really between extra close combat power, magical backup or trap disarming. I've found henchmen are rather good at wasting spells though, and usually you're just as well off casting a 'protection from elements'-type spell and shrugging off any remaining damage. For those reasons, I'd actually advise bringing along either Linu or Mr. Red Tiger.

For stats, keep your dexterity low as you will indeed be wearing heavy armour. Your strength is important because you'll have lots of junk to carry around, and at lower strengths full plate is just too heavy. You will find some strengthboosting items later on, so there's no need to raise it to more than a +3 bonus.
Your constitution matters in combat, but not all that much. Again, 16 is the absolute maximum you want to spend here.
Also remember that you will get access to spells which will raise your stats by up to 5 for a while very soon.
Intelligence is where you should put any spare points, as it will determine how many extra skillpoints you will have to spend. The more you put in here, the better you'll be able to create an all-round character.
Wisdom should be as high as possible, and this is probably the stat you want to raise when you level up. There's no need to go beyond 20 though.
Charisma is a nice bonus, but for a combat-oriented cleric it is not something to spend more points on that you have to.

The most useful spell is Harm [img]smile.gif[/img]
But it's level 6 so you'll have to wait a while to get that one.
There are roughly four kinds of spell here:
Those that heal, those that harm, those that increase defenses and those that lower defenses.
Since you're a cleric THERE'S NO NEED TO MEMORISE ANY HEALING SPELLS. As long as you have the healing spell in a quickslot, you can always convert memorised spells to healing spells of the same level if there's a need to do so. The only drawback is that you can't pick what spells you sacrifice first, so you could lose just that one damaging spell you were trying to save rather than the Cure Disease spell you were keeping 'just in case'. The trick is to use up the spells you want to use first, so you are certain only those you can afford to lose are turned into healing spells.
As a rule, defensive spells are nice to have around, but the real magic power comes from the damaging spells. If they have an area effect, so much the better. Spells that bring down defenses are useful sometimes, but most of the time you're better off memorising other spells. Only for when you know you'll be facing something where they are going to come in handy.

A fifth type of spell is the summoning spell. With two or three of these you'll have plenty for a long day's fighting, especially since you are a cleric and you're brinigng a close-combat henchman.

What skills you take depend on how many skillpoints you have. Persuation can be useful, but only after you've covered all the more important skills. Stick to class skills as much as possible, but avoid taunt and parry (goes for any class). In the OC, they are just not worth it.

Of the two weapons, pick longswords; there's a better selection and you won't need to invest in the Exotic weaponsfeat. Even though I think bastardswords are cooler, they're not represented well enough to justify their use.

Finally, the domains.
Animal is very useful as it greatly increases the power of your summoned creatures
Death is nice too, the summonable creature is quite powerful, especially at the higher levels.
Healing is okay, but works better if you need to do a lot of it (if you're the cleric in a MP party for example)
Magic gets you some rather powerful spells, and may also be worth taking
Protection can be useful for added protection against magic, although you won't really need it.
Strength gets you a useful Stoneskin spell as well as a temporary increase in strength which you can stack with Bull's Strength and any items for truely massive bonusses, if only for a while.
Sun is a decent domain as well, and will allow you to deal with undead much better than a regular cleric as well as letting you pick the useful Sunbeam spell at higher levels.
Travel is worth it for the haste spell alone, free action also helps deal with some of the more annoying traps.
Trickery is an okay domain too, although I personally think there are others more useful.
War is useful if you really want to go tanking,
The other domains are too specialised to give you any real advantages.

Animal and Sun are probably the most useful, although you may want to try out Strength and War as well.
__________________
Say
NO
to the Trouser Tyranny!