Far Cry 2 is AMAZING.
---
Simply put...if you like First Person Shooters, you owe it to yourself to check this one out...It's very immersive, and plays a bit like a single-unit Rainbox Six game, in that...well, you'd better think about how to infiltrate an enemy camp before you dive in, guns blazing.

The atmosphere is great, and the game just feels alive...

But, anyway, try it out, or get someone else to let you play it on their PC, xbox, or ps3.
__________________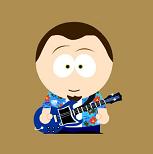 Is that what you
really
want to say?